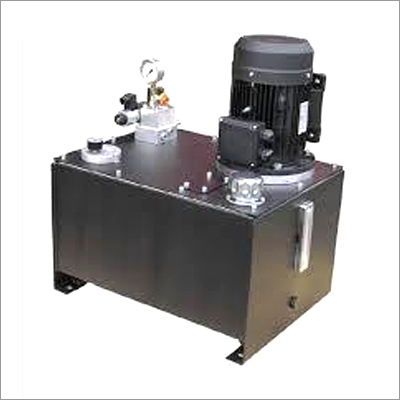 Product Description
Our enterprise has attained the reputed position in this domain by manufacturing, exporting and supplying Power Pack. This pack is commonly used in scissor lifts, plant trailers and tipping trucks for supplying power units. The provided pack is manufactured under the strict observation of our dexterous professionals using quality approved components with the aid of pioneering techniques. In addition to this, we are offering this Hydraulic Power Pack in various technical specification at economical prices within specified time span.
Features:
Highly efficient
Optimum functionality
Sturdy construction
Accurate design
Further Details:

Our power pack deploys standard scope of modular parts for simple specification, handling and assembly in the extreme requiring industrial uses. It suits numerous industrial demands through its tank limit of 180 liters, pressure limit of 250 bar, flow rate of 100 liters each minute as well as engines of around 30 kW.

The AC engines are complete IP55 as normal and multi attach B35 specification. Engine alternatives like Ex safety and anti-condensation heaters are conceivable. Less pulsation of our power pack provides a smooth and sound flow. For additional strength, cast iron flanges are provided.

Our packs possess micron return filters and suction as standard. Option for pressure filters are also present with our power pack to provided elevated cleanliness levels. Along with the product, maintenance and installation manual is additionally offered. Our every product is delivered with an examination certificate and CE validation documentation. Where ordinary power packs can not provide every hydraulic properties, our power pack provides complete hydraulic system properties.

Further, our system utilizes encased liquid to exchange power starting with one source then onto the next, and in this way make turning movement, straight movement, or pressure. It applies the pressure, which drives cylinder, motors and different correlative parts of the system. Dissimilar to ordinary pumps, our power pack unit deploys multi-arrange pressurization systems to move liquid, and they frequently consolidate temperature control instruments. The mechanical specifications and properties manage the sort of undertakings for which our power pack can be powerful.

A portion of the imperative components that impact a power pack's execution are reservoir volume, power capacity and pressure limits that are available in our gamut. There are important physical properties that are imperative to consider such as size, pumping strength and power supply. To better comprehend the working standards and configuration includes in our power pack, it might be useful to take a gander at the fundamental parts of a standard version utilized as a part of mechanical pressure driven systems.

Design Components

Our durable and large power pack is intended for operations under distinctive environmental conditions. The outline is quiet distinguished from ordinary ones.
Several attributes of our system comprises:
| | |
| --- | --- |
| Accumulators | These are holders that can be connected to the pressure driven actuators as they gather water through the pumping component and are expected to construct and keep up liquid weight to supplement the engine pumping system. |
| Motor Pumps | Power pack can be outfitted with multiple or single engine pump along with accumulator valve. In multiple pump arrangement, normally single works at a time. |
| Tank | It is intended with sufficient volume for liquid in tubes to drain in it. Similarly, actuator liquid may at times require depleting into the tank. |
| Filters | These are ordinarily introduced along the highest point of the tank. It is an independent sidestep unit, with particular engine, filtering apparatus and pump. It is also deployed to vacant tank by enacting a multi-directional kind of valve. Since they are independent, they can frequently be supplanted while the energy unit is working. |
| Coolers and Heaters | As a feature of the temperature control procedure, an air chiller can be introduced close or behind the channel unit to keep temperatures from transcending operational parameters. In like manner, a system for heating, for example, an oil-based radiator, can be utilized to hoist temperatures when fundamental. |
| Power Unit Controllers | It contains monitoring, displays and switches features. It is important for introducing and coordinating an energy unit in systems, as well as can for the most part be discovered cabled in the energy unit. |
Operating Process
At the point when our power pack starts working, the apparatus pump hauls water powered liquid from the tank and travels it into an aggregator. This procedure proceeds until the weight inside the accumulator achieves a foreordained level, and soon thereafter a charging valve transforms the drawing activity to start circling liquid. This makes the pump discharge liquid through a charging valve over into the tank at insignificant force. An exceptional single-way valve shields liquid from streaming from the accumulator, yet in the event that the weight drops by a critical sum, the valve of charging reactivates and the aggregator is refilled with liquid. More remote down the line, a decreased force valve manages the stream of oil traveling to the actuators.
If aggregator is outfitted with a quick stroking instrument, it can be associated with different collectors to enable them to charge force too. Frequently, a programmed indoor regulator or fan will be incorporated to help lighten rising temperatures. When system's liquid starts to overheat, a switch of temperature can close the engine pump off that can likewise help refilling of tank if its liquid level is extremely less. When power pack has different engine pumps, a stream switch can possess them exchange if there ought to increase of lessened liquid supply. Switches of pressure can be utilized to direct aggregator force and a checking system can makes ready workers when force has dropped very less, raising the danger of energy unit failure.
Get in touch with us